At the beginning of 2020, I spent two months as a volunteer in the south of Nepal in the town of Birgunj together with a friend. The ChildVision Nepal association from Upper Austria supports two schools there, where I taught. The country of 30 million inhabitants is imagined as a dream come true with picturesque mountain scenery, cultural diversity and profound traditions. These aspects are also true and therefore definitely worth a trip to the South Asian country. However, if you take a closer look, the poverty and deeper problems of the country are quickly apparent. In Nepal, the saying "you work to live" is true, but not everyone has the opportunity to find work, which makes survival difficult.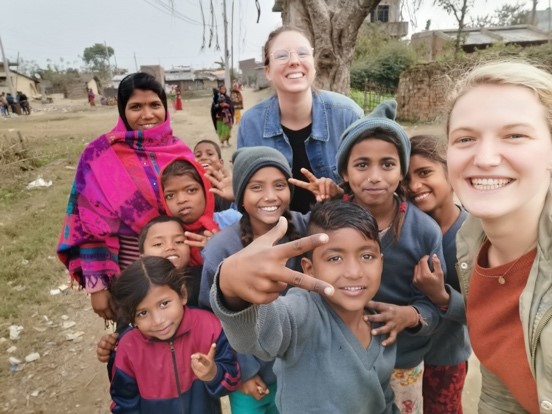 Waste on the streets, too little to eat, clothes with holes in them, lack of underwear, inadequate hygiene facilities, no right to education – and yet happy and content with what Dalit children have in Nepal. Dalits – also called the "untouchables" – are the people of the lowest social class in the caste system. Although the caste system has long since been officially abolished, it still determines the daily lives of Nepalese*, such as housing, education, food, occupation, clothing, spouses and friendships. One is born into the caste and can rarely leave it. Dalits thus face discrimination, prejudice and social exclusion throughout their lives. 67% of them are illiterate and can neither read nor write. As a result, they cannot read documents or speak Nepali, the official language of the country, and are dependent on other people for their entire lives.
Children from the lowest caste are forbidden to attend school in the city with other caste members. However, in the slum outside Birgunj, where they live together with their family and animals in cramped mud houses, there is too little education available. To help Dalits gain more independence, freedom and opportunities, Brigitte and Heinz Söllinger from Upper Austria founded the organisation ChildVision Nepal. Under the guiding principle "Give the children a fishing rod and not a fish", they want to create sustainable change in the country through educational opportunities. The organisation supports two schools in Birgunj: the prison school, where children of imprisoned mothers and street children are taught, and the slum school, the Anamika ChildVision School, which is attended by Dalit children. There, Brigitte focuses on an 80% quota of girls, because women in particular are affected by lack of opportunities in Nepal and have little value for the family without education. As a result, girls often become victims of prostitution, child trafficking, child marriage and violence. Unimaginable for us, but families really sell their own children for little money.
The director of the schools, Anamika, was herself married off from India to Nepal at 13 to a much older man and became a mother for the first time at 14. She has a very supportive husband who gave her the freedom to realise her dreams and guides her along the way. This is an exception in the country as a woman is usually considered a possession by her husband. Thus, Anamika became a teacher in the prison school where she met Brigitte and Heinz in 2015 – the beginning of ChildVision Nepal.
The three agreed: through education, girls in particular gain value and can escape the shackles of Hindu religious rules. As soon as girls start menstruating, they are ready for marriage and slip into the role of housewife and mother – so education and thus an independent life is out of reach for them. During menstruation, women are considered impure and are therefore not allowed to eat with their family and usually have to sleep in the stable. A woman also has little or no rights towards her husband. For example, she is not allowed to start eating until her husband has finished and must ask him for permission to leave the house. An uneducated woman submits without resistance and lives without any self-determination.
The importance of learning for people was omnipresent during my time in Birgunj. Arriving in the city, I was first shocked by the living conditions on the ground. Rubbish everywhere I looked, a hole in the floor as a toilet, mice in the bedroom and hygiene conditions in the kitchen that took some getting used to. I had to swallow deeply and the word culture shock was not even close to describing my initial feelings.
But the first visit to the school showed me why I am here and why I wanted to be here: although the children have nothing, they are full of life and radiate positive energy and warmth. Going to school every day is a highlight for them and they are happy to be able to learn. A high five or a song sung together makes them beam from ear to ear. Teaching was a give and take, because I gave the children knowledge and through the euphoria of the children I could take away happiness and fulfilment.
Quickly I realised that for the children school is much more than "just" learning: they get security, warm meals, medicine and hygiene. For example, we bought a boiler and showered the children weekly, as they hardly have any hygiene facilities at home. While showering, I noticed that the children had several layers of clothes on to keep warm. Very few of them had underwear. Brigitte organised school uniforms including shoes for the children. A pair of their own shoes, which were whole and also fitted – unimaginable for the children.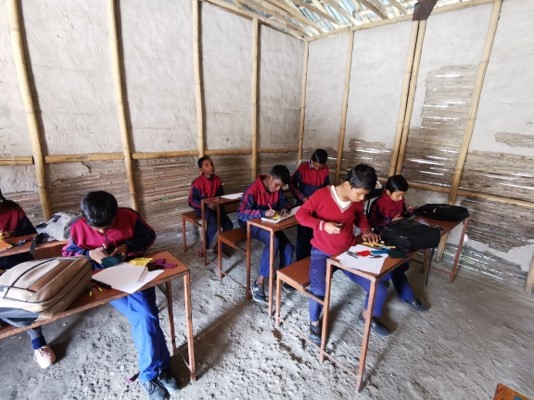 My time in Nepal was very enriching for me and I became aware again of the wonderful responsibility as a teacher. Teaching is much more than just standing in the classroom and teaching the students. As a teacher, you accompany them in their development and help them grow personally, socially and emotionally. Here in Austria, education is taken for granted and we all know the days when going to school was annoying and seen as a mere duty. In Nepal it is different: here the children want to learn, but often have no opportunity to do so. The children I met were excited to go to school and learn new things.
The way of life of the Nepalese was also instructive for me. They have so little and yet they give so much. For example, the slum dwellers invited us for tea on the way home and gave us parting gifts, even though they hardly own anything themselves. They are very hospitable and love to talk about their culture and share their traditions with us strangers. Nepalese cuisine is also in a class of its own.
Brigitte said so beautifully, "Being born in Austria is like winning the lottery." Where she is right, she is right. I think that we should realise more often under what high standards we are actually allowed to live compared to a country like Nepal, but we take our luxuries for granted far too often. People in the slum share a room with their whole family, have to fetch water from the water pump, don't have a supermarket full of choices let alone money for it, and on cold days wear their entire wardrobe to keep warm.
A group of children posing for a photo Description automatically generated with medium confidenceOn the one hand, it broke my heart to see how these children have to grow up far away from Austrian standards. On the other hand, it gave me hope that these children can make something out of their lives – thanks to ChildVision Nepal.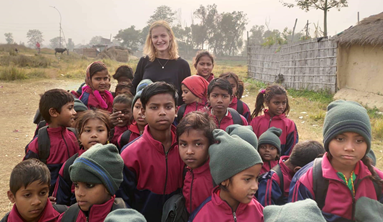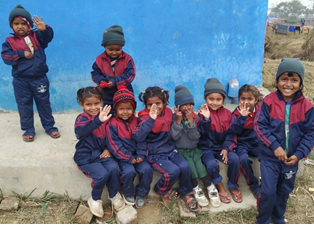 Did my experience make you think and do you want to know more about it?
You can find more information about the projects on childvisionnepal.com or you can contact me directly (daniela.diemling@gmail.com).
The education of the children of ChildVision Nepal is financed by donations. Every Euro is helpful, not a cent of which goes to administrative costs. You can also sponsor a child on a monthly basis, which will provide hot meals, maintenance and extension of the schools, teaching materials, school uniforms, teachers' salaries and medical care for a child.
We are also always looking for volunteers who want to become active as teachers and supporters in Nepal. You don't necessarily need to be trained as a teacher, because your experience in the Austrian school system can already make a big difference in Nepal.
Donation account
Account name: Brigitte and Heinz Söllinger
Password: NEPAL
IBAN: AT97 3431 3003 0001 9315
Contact: b.soellinger@gmx.at or childvision.nepal@outlook.com